Deploy Digital Menu Boards to Increase Footfall & Reduce Perceived Waiting Times
Capturing the customer's attention is a top priority in cafes, restaurants and food outlets. Successful Digital Menu Boards work by grabbing and keeping the customers attention, informing them about the offers you want to promote and showcasing your products in glorious high definition. Your menu will never look better!
Transform your menu into a dynamic, flexible, high impact business communication tool rather than a simple list of static choices. Entice customers to try your specials or promote different items at specific times of day to increase sales and average order value. Seamlessly update menu items at no extra cost or amend prices across multiple store locations at the flick of a switch.
MAD Colour offer a consultative & fully integrated approach to digital displays by sourcing the best hardware for your application, creating eye catching content and seamlessly installing the screens into your retail space. With the included CMS (content management system) they become a very powerful and simple to use menu or information display board.
Benefits of Digital Displays & Menu Boards
Display both images and videos & synchronise content across multiple screens
Add motion to your menu using videos & animation
Automatically schedule breakfast, lunch and evening menus
Schedule start-up and shutdown times each day
Update info such as pricing instantly at no extra cost
Can be wall-mounted, floor standing or suspended from ceiling in landscape or portrait formats
Update content using Plug and Play USB stick or using the CMS with the displays built in Wi-Fi / ethernet.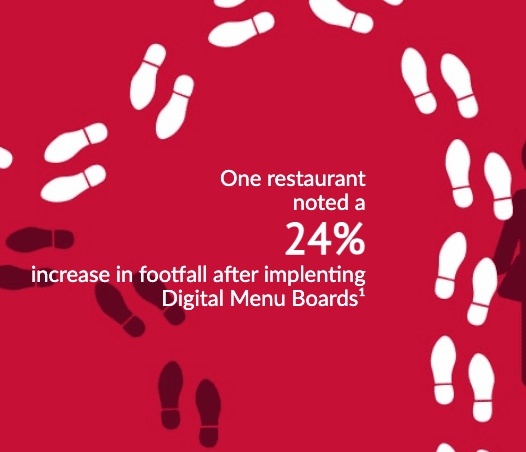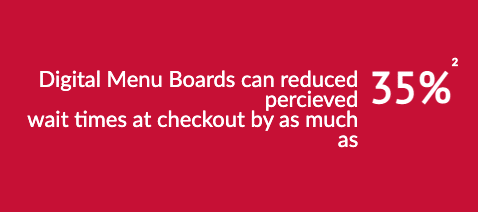 Digital Signage Solutions from MAD Colour
MAD Colour deploy digital menu boards and digital signage solutions for leading brands such as Bob & Berts, BPerfect Cosmetics & Belfast International Airport among others. We have configured and installed screens throughout Belfast, across Northern Ireland and into Great Britain.
Creative & Consultative Approach
Customers value our creative thinking & consultative approach on screen placement and content creation to get the most out of digital displays and offer the best possible customer experience.
Fully Integrated Service
MAD Colour can offer a full end to end service covering hardware, software, screens, content creation, service, support and installation.
Reliable Robust Solution
When it comes to your menu boards for your business, reliability is not optional. Our robust solutions are designed for maximum reliability and performance in restaurant environments.
Tried & Tested Content Management System (CMS)
What sets MySignagePortal apart from other CMS solutions on the market is the fact that the hardware is designed in conjunction with the software which brings a host of advantages.
24/7 Commercial Grade IPS Panel
With a commercial grade IPS panel with a brightness of 450cd/m2 (twice the brightness of domestic televisions) this Digital Menu Board is able to reproduce and maintain the ultimate colour temperature for lifelike images even in the most challenging lighting environments. With a lifespan of over 50,000 hours the screen can be in use 24/7 with no loss in image quality. There are no external buttons or controls on the screen to avoid tampering.
Narrow Bezel
When multiple Digital Menu Boards are placed side by side there is a virtually seamless display thanks to their thinner edges and superior image precision.
Portrait or Landscape
The screen can be used in either a landscape or portrait orientation depending on your requirement.
Multi Screen Synchronisation
You can synchronise your Digital Menu Boards across multiple screens provided they are connected to the same network. This is ideal for menus above the counter.
Plug and Play
No internet access available the screen can still be updated thanks to their backup USB update option. Simply package up your Playlist onto a USB stick and insert into the screen. Your templates, schedule and content will now copy over and start playing.
Power Timer
Reduce power usage by automatically powering off in hours that the displays are not required.